by Yann Brandt, Managing Editor
According to The Ohio Coal Association, there are 3,000 coal workers in Ohio. Their jobs are in jeopardy in a State that gets 69% of its energy from coal and is the 4th largest consumer of coal in the Country. So the question is why are their jobs in jeopardy and what is the policy answer to the problem?
In the last policy question of the second Presidential debate, Ken Bone asked, "What steps will your energy policy take to meet our energy needs while at the same time remaining environmentally friendly and minimizing job loss for fossil power plant workers?" This was the only question about energy or climate change of the evening.
Of course Trump blamed Obama's EPA regulations for killing the coal jobs in Ohio but let's look at some facts. In reality, coal has lost its market dominance due to the availability of cheap natural gas.
Ohio is thriving in solar however, against the odds put forth by Governor Kasich. With 4,811 solar jobs in 2015, Ohio's solar industry grew by 15% even after Kasich signed SB 310, the bill to freeze the State's renewable standard (RPS). The RPS, unless repealed, would bring Ohio up to 22% of renewable power and energy efficiency by 2027.
In 2016, Ohio will once again grow the solar jobs count by 970, a 20% growth rate. This growth would allow a third of coal workers to organically get into the solar workforce and continue to bring energy to the people and utilities of Ohio. Imagine how easily Governor Kasich could create 3,000 jobs in solar for Ohio's coal workers.
Training for coal workers is more available than ever, programs like IREC's workforce development training is highlighted in Harvard's Business Review. Veterans looking to enter the solar workforce also have access to Solar Foundation's Solar Ready Vets program supported by the Department of Energy. Job openings and training programs for solar continue to increase in availability throughout America.
Mr. Trump should understand what Americans already know and want. More solar on the grid. More solar means more jobs and more choice for consumers.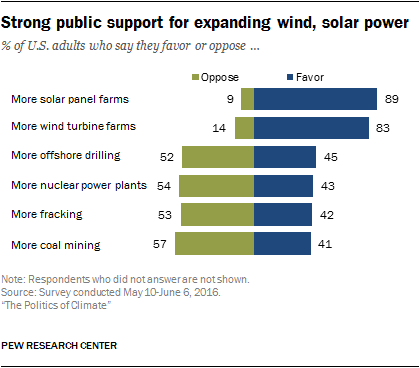 With 89% of Americans supportive of solar, both sides of the aisle can agree that the solar industry is ready, willing and able to create long term and sustainable careers for Ohio's 3,000 coal workers.