This is your SolarWakeup for February 16th, 2018
Do You Vote Solar? 5 weeks from now, the solar industry will come together in celebration of Vote Solar at Equinox 2018. Today is the day to hit reply to this email and tell me that you want to sponsor Equinox. You don't pay membership fees to Vote Solar because there are no members, no paid for boards or other fundraisers. Just Equinox and contributors. On the other hand Vote Solar has been on the ground and in the regulatory hearings representing your best interests, preserving net metering, PURPA and more around the Country. Vote Solar is opposing massive rate base projects to improve solar markets in places like Michigan. I need you to act and be a part of Equinox, if you can't sponsor please buy tickets and join the industry. You know as much as I that Vote Solar has created a positive impact for your business this year. Hit reply now!

Seed Fund Applications. Danny Kennedy is back for more of your businesses to apply to CalCEF's CalSEED grant program. If you are working on a great idea, you should apply. There is money and more importantly there is mentorship and marketing for your business. Link is below to apply, deadline is February 28th.

$84million Profit. I generally skip the earnings season but SolarEdge full year announcement caught my eye. This is a solar hardware company that raised a bit of a hundred million in venture money then to the IPO. Today they are worth $2billion. In 2017, revenues were in excess of $600million and profits over $84million. Well done to a solar success story!

Starting Line. You'll see plenty of coverage on the FERC approved NOPR on energy storage. It still requires implementation at the local level but it essentially brings storage to the grid operation. There are shortcomings in the order but this is a process with a good start.

Q&A. This weekend, don't miss the Q&A from New York where the audience was asking the questions. This will happen again at SolarWakeup Live! San Francisco expected to happen the second week of April. More details to come soon! Enjoy your weekend, no edition on Monday, I'll be back on Tuesday with your solar news.

News
Have a great day!
Yann
This is your SolarWakeup for February 15th, 2018
PACE. Many readers that have followed my career know that solving C&I solar has been a longtime problem I have wanted to fix. We, collectively as an industry, know that credit is the central problem that isn't solved like the FICO score solves the problem in residential. That is why I am excited to be doing consulting work as an Advisor to CleanFund, the market leader of commercial PACE. Over the next few months, I'll be back speaking to many of you about how we can all work together and fix this problem. C&I energy users represent almost 50% of the total energy consumption but when you look at the unrated commercial solar market, it's basically zero. I see PACE doing for C&I solar what the loan did for residential. PACE isn't what it was a few years ago, rates are competitive and the process is much more refined. More to come on this.

New Podcast. This is a reverse interview with the audience at SolarWakeup Live asking the questions. Sound from the questioners is a bit low but I hope you enjoy to hear some of the thoughts. I'll be doing this at future events as well to make sure the folks in the room get some feedback on the current issues being debated.

Wave Elections. I talk about politicizing the issue of solar at every chance I get. Tom Steyer is apparently taking advantage of the anticipated wave election in 2018 to put renewable energy as an issue on the ballot in several States. The legislative strategy is sound, partnering with some solar trade groups to message it appropriately would be a good additional improvement also. Look at this space.

State Politics. Interesting that the VA house in a monopoly reform bill which originally passed 55-41 was put up for a revote and was essentially unanimous. I'd be curious to understand the politics of that move except to cover the few that went with the democrats on the initial vote. Let's see how this works in other States.

Corporate PPAs. Always interesting to get more detail on how the corporate PPAs are actually structured. Mostly they are some version of contract for differences (CFDs) but this explains in greater detail on how to do this and what the financial value proposition is.
News
Have a great day!
Yann
E036: Reverse Q&A With Yann Brandt, Live From SolarWakeup Live! New York
[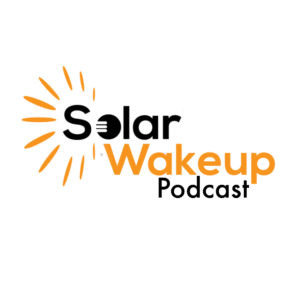 What: Reverse Q&A With Yann Brandt, Live From SolarWakeup Live! New York 
Summary: By popular demand, the audience of SolarWakeup Live! asked me the questions during this panel. Topics included the impact of 201, what is next for solar, the future of solar advocacy and how to increase the feedback loop with SolarWakeup readers. SolarWakeup View: Listen to the podcast to hear the SolarWakeup View.
This is your SolarWakeup for February 14th, 2018
Battery Thoughts. If you were in solar in 2007, email me how much you paid for your first module and what you paid for your last module. Then think about the following, nobody else was using silicon wafers and the price dropped an enormous amount. Then think about batteries for energy storage. At best, I see energy taking 10% of the global market share of the lithium ion production. Maybe you stretch the assumptions and get to 25% but transportation will take the vast majority of it. That's the game folks, everything is going to electrify because storage costs will become nothing. Then add the speed it brings to grid operations, elimination of intermittency in generation and reduction in grid upgrades.

Innovation. I spent the last two days at the SunShot summit here in DC. First, I am glad to see that people are targeting real and imminent problems in our space in hardware, software and business model innovation. Second, they need better access to capital and ability to network within the space. Third, these startups do a terrible job in marketing. I am the easiest media platform in the industry to reach out to, thousands of you can talk to me with the click of a reply button and it almost never happens. Our industry is a rising tide that helps everyone. Some of us will sink but I am sure of the fact that if someone does well, they reinvest into the space. SolarWakeup Ventures???

Three Pronged Solar Value. At some point we will draw the picture but the solar industry is surrounded by three major trillion dollar industries. Transportation OEMs, oil & gas majors and power IPPs are all making major moves because of the electrification of transportation.

Yieldcos. Pension funds are yieldcos for the pensioners looking for their monthly retirement check. They just happen to be private and less volatile. That's where solar assets belong because the upside is limited for a long term solar asset owner but the downside is managed properly. Yieldcos may be gone from public markets, but they are not gone, far from it.


News
Have a great day!
Yann